New Blackmagic Pocket Cinema Camera 6K Pro!
Blackmagic Design today announced the Blackmagic Pocket Cinema Camera 6K Pro, a new more powerful model that includes features for high end digital film. This new model includes a brighter 1,500 nit adjustable HDR touchscreen screen, built in ND filters, larger battery, plus support for an optional electronic viewfinder. This model also includes latest generation 5 color science, Super 35 HDR image sensor with 13 stops of dynamic range, dual native ISO of 25,600 and a popular EF lens mount.
The elegant design of the Blackmagic Pocket Cinema Camera packs an incredible number of high end digital film features into a miniaturized, handheld design. Made from lightweight carbon fiber polycarbonate composite, the camera features a multifunction handgrip with all controls for recording, ISO, WB and shutter angle right at their fingertips. Because it's an advanced digital film camera, the sensor is designed to reduce thermal noise allowing cleaner shadows and higher ISO. Plus the large 5 inch LCD makes it possible to get perfect focus at 4K and 6K resolutions.
Featuring a larger 6144 x 3456 Super 35 sensor and EF lens mount, the Blackmagic Pocket Cinema Camera 6K lets customers use larger EF photographic lenses to create cinematic images with shallower depth of field, allowing creative defocussed backgrounds and gorgeous bokeh effects.
The Blackmagic Pocket Cinema Camera 6K Pro includes additional pro features such as built in 2, 4 and 6 stop ND filters, adjustable tilt HDR LCD with a bright 1500 nits that's ideal for use in bright sunlight. It also includes two mini XLR audio inputs and a larger NP-F570 style battery.
The 6K models feature an EF lens mount so customers can use lenses customers already own from other cameras such as DSLR, URSA Mini Pro or even the original Blackmagic Cinema Camera. Customers can use commonly available photographic lenses that provide incredible creative choice and wonderful feature film quality lens effects. The active lens mount lets customers adjust focus and iris from the buttons on the camera or the touch screen.
The Blackmagic Pocket Cinema Camera 6K Pro features high quality, motorized IR ND filters that let customers quickly reduce the amount of light entering the camera. Designed to match the colorimetry and color science of the camera, the 2, 4 and 6 stop filters provide customers with additional latitude even under harsh lighting. The IR filters have been designed to filter both optical and IR wavelengths evenly, eliminating IR contamination of the images. Activation buttons are located on the rear of the camera body, placed within easy reach of their thumb from the multi-function hand grip. User-selectable filter settings can even be displayed as either an ND number, stop reduction or fraction on the LCD.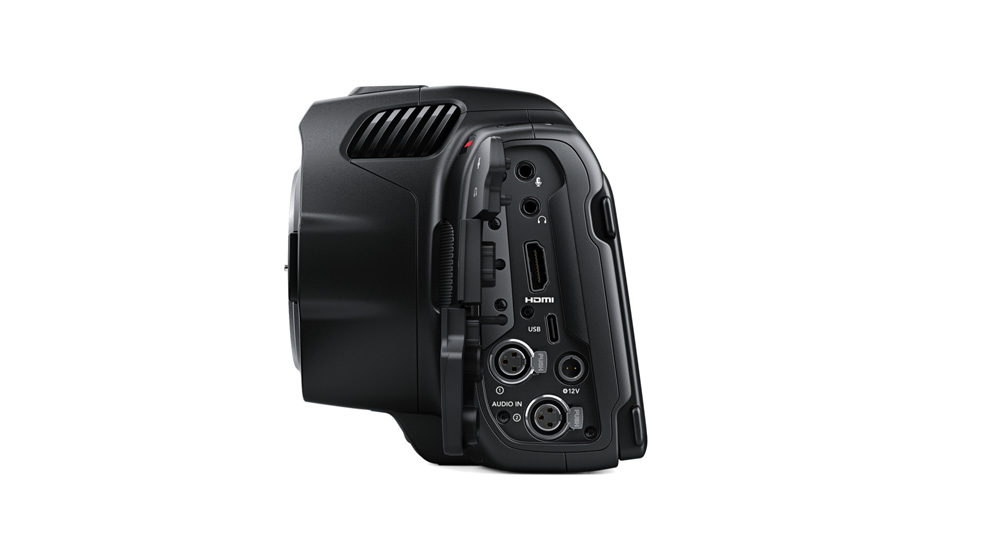 The Pocket Cinema Camera 6K Pro supports an optional viewfinder to make outdoors and handheld shooting accurate and easy. Customers get an integrated high quality 1280 x 960 color OLED display with built-in proximity sensor, 4 element glass diopter for incredible accuracy with a wide -4 to +4 focus adjustment. A built-in digital focus chart ensures customers get perfect viewfinder focus setup. Customers can also view critical status information such as frame guides. The Pocket Cinema Camera Pro EVF connects quickly to the Blackmagic Pocket Cinema Camera 6K Pro via a single connector. The viewfinder has a 70-degree swivel range and comes with 4 different types of eyecups for both left and right eyes.
Blackmagic Pocket Cinema Camera 6K Pro Features
Designed from carbon fibre polycarbonate composite.
6144 x 3456 sensor with 13 stops and dual native ISO up to 25,600.
Compatible with a wide range of popular EF lenses.
Built in motorized 2, 4 and 6 stop ND filters.
Up to 25,600 ISO for incredible low light performance.
Standard open file formats compatible with popular software.
Adjustable, HDR 1500 nit LCD screen.
Includes Blackmagic Generation 5 Color Science.
Optional Blackmagic Pocket Cinema Camera Pro EVF.
Professional mini XLR inputs with 48 volt phantom power.
Larger NP-F570 battery, optional Blackmagic Pocket Camera Battery Pro Grip.
Includes full DaVinci Resolve Studio for post production.
Availability and Price
Blackmagic Pocket Cinema Camera 6K Pro is available now for £1,879 (excluding VAT) and is available for pre-order today!