ATEM Mini Extreme
ATEM Mini switchers make it easy to create professional multi camera productions for live streaming to YouTube and innovative business presentations using Skype or Zoom. Simply connect ATEM Mini and customers can switch live up to 8 high quality video camera inputs for dramatically better quality images. Or connect a computer for PowerPoint slides or gaming consoles. The built in DVE allows exciting picture in picture effects, perfect for commentary.
ATEM Mini's compact all in one design includes both a control panel as well as connections. The front panel includes easy to use buttons for selecting sources, video effects and transitions. The source buttons are large so it's possible to use it by feel, letting the presenter do the switching. Customers even get buttons for audio mixing. On the ATEM Mini Pro and Extreme models customers also get buttons for record and streaming control, as well as output selection buttons that let customers change the video output between cameras, program and multiview. On the rear panel there are HDMI connections for cameras or computers, extra microphone inputs, USB for webcam out plus an HDMI "aux" output for program video.
ATEM Mini Pro and ATEM Mini Extreme models have a built in hardware streaming engine for live streaming via their ethernet connections. That means customers can live stream to YouTube, Facebook and Twitch in better quality, without dropped frames and with simpler settings. Just select the streaming service and enter the streaming key. There are palettes in ATEM Software Control for streaming setup, plus streaming status is also displayed in the multiview. Streaming status is easy to understand as the data rate indicator shows internet speed required for the video format users are using. If users are technically minded, customers can update the streaming profiles in an XML settings file to load new services.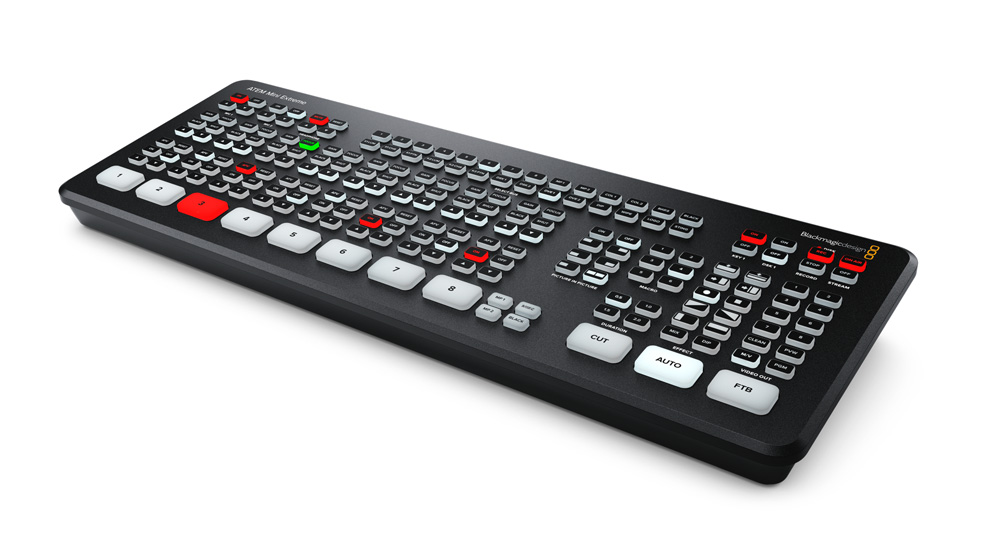 The ATEM Mini Pro and Extreme models also support direct recording of their streaming data to USB flash disks. That means customers get very long recordings in the same H.264 video files with AAC audio that customers streamed, so customers can direct upload to any online video site, such as YouTube or Vimeo. Recording to multiple disks is also supported via a USB hub or Blackmagic MultiDock, so when a disk fills recording can continue to a second disk for non-stop recording. Record settings and disk selection are set up in ATEM Software Control and there's a record status view in the built-in multiview.
The ATEM Mini Pro ISO and Extreme ISO models allow customers to edit their live event as they can record multiple video streams, including clean feeds of all inputs and program, all at the same time. Media pool images used are also saved with the video files. The video files include metadata tags such as synced timecode and camera numbers. Imagine re-editing their show with new color grades, effects and graphics. Even the audio sources are all recorded so customers can professionally remix their audio.
"These 2 new models of ATEM Mini are a massive increase in creative features and are now our most powerful 1 M/E switchers!" said Grant Petty, Blackmagic Design CEO. "With our ATEM Mini customers really pushing the edge in live production, we feel they are innovating in new and exciting ways and inventing new workflows that we have never seen before. So we felt it was important to build a new model of ATEM Mini that would take the features well beyond what was available now, so our customers can continue to innovate with these new workflows. These new models are big, powerful and still incredibly affordable.
ATEM Mini Extreme and ATEM Mini Extreme ISO Features
Features miniaturized control panel based design.
Supports connecting up to 8 cameras or computers.
Supports streaming via Ethernet or tethered phones via USB.
Tethers to 5G or 4G phones for mobile remote streaming.
Records to USB flash disks in H.264.
Two stereo audio inputs for connecting desktop or lapel microphones.
Automatically standards converts and re-syncs all HDMI inputs.
Includes free ATEM Software Control for Mac and Windows.
Internal media for 20 RGBA graphics for titles, opening plates and logos.
4 upstream ATEM Advanced Chroma keyers for green/blue screen work.
2 independent DVEs plus SuperSource with 4 extra DVEs.
16 way multiview for monitoring all cameras, recording and streaming status.
Availability and Price
ATEM Mini Extreme and ATEM Mini Extreme ISO are available now from £795 excl. VAT