Blackmagic Design Announces New ATEM Television Studio 4K8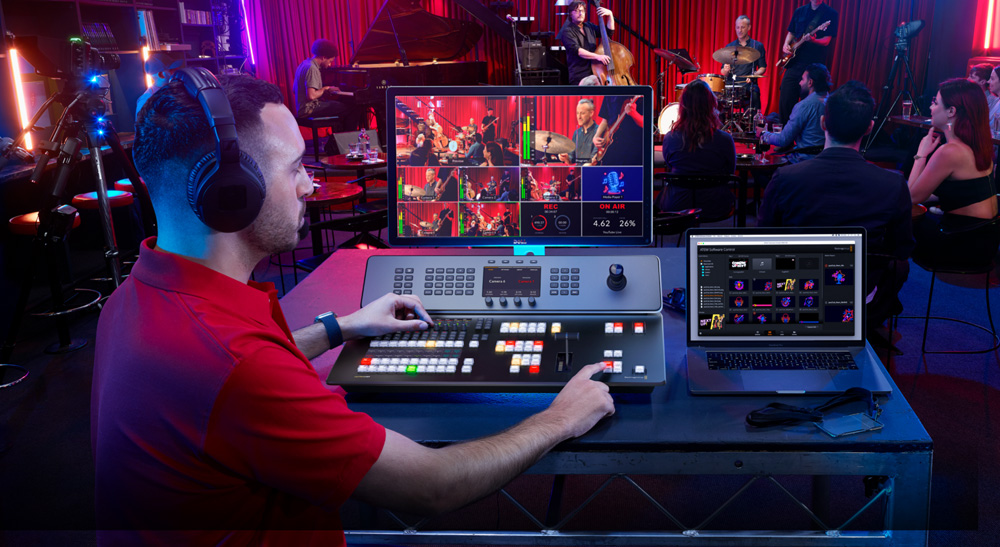 NAB 2023, Las Vegas, USA - Sunday, April 16, 2023 - Blackmagic Design today announced the new ATEM Television Studio 4K8 live production switcher that combines all the great broadcast features of the ATEM Television Studio HD with additional support for Ultra HD standards up to 2160p60. The ATEM Television Studio 4K8 features 8 standards converted 12G-SDI inputs, 10 x 12G-SDI aux outputs for external recorders and a 4 port 10G Ethernet switch. It also supports live streaming, talkback and optional internal network storage as well as a joystick for precise DVE control. ATEM Television Studio 4K8 will be available in July from Blackmagic Design resellers worldwide from for £3,909.

The ATEM Television Studio 4K8 will be demonstrated on the Blackmagic Design NAB 2023 booth #N2601.

The new ATEM Television Studio 4K8 is a professional live production switcher built into a broadcast control panel so it can be used for high-end work while being extremely portable. This means customers can use it in small venues that don't have access for equipment racks or broadcast vans. Customers get a powerful switcher with 8 standards converted 12G-SDI inputs, 10 x 12G-SDI aux outputs, 4 chroma keyers, 2 downstream keyers, SuperSource, 2 media players and lots of transitions. Plus it includes a whole television studio of features such as hardware streaming, recording, audio mixer, talkback, multiview and optional internal network shared storage.

The ATEM Television Studio combines a switcher and control panel into the same unit, so it's extremely portable. The front panel includes buttons for selecting sources, triggering transitions and setting up video effects. Plus the buttons are the same high-end type used on expensive broadcast switchers. Customers also get a built-in t-bar for manual transition control. The front panel even has an innovative audio mixer control area with live metering on a dedicated LCD.

With 8 SDI video inputs, ATEM Television Studio lets customers connect multiple cameras for different views of the performance. Video cameras with SDI outputs, such as Blackmagic Studio Camera or Blackmagic URSA Broadcast G2, are much better quality as they have better low-light performance and use professional lenses. All video sources will re-sync to the switcher, even if they operate at different video standards. Everything just works so setup on location is easy and customers don't have to worry about technical problems.

Customers can select from exciting transitions such as dissolve, or more dramatic effects such as dip to color, DVE squeeze and DVE push. Customers can even add a DVE for picture-in-picture effects with customized graphics. There are also media players which let customers store graphics with alpha channels for titles and graphics that customers can load as live video inputs. Then customers can live stream the results.

One of the benefits of ATEM Television Studio is the range of professional built-in video effects. The t-bar fader can be used to transition video effects, or customers can do the transition automatically by pressing the auto button. There is a wide range of SMPTE wipes included, plus fun DVE effects that slide or squeeze the image off-screen when transitioning between video sources.