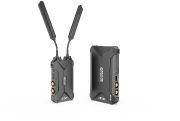 NO DELAY , NO COMPRESSION, NO IMAGE LOSS
Applying the noise reduction technology which will reduce the image quality loss.
Clear and high-quality image can satisfy the requirements of director and photographer.
Type your teTIMECODE , REAL-TIME RECORDING
Support LTC and VITC timecodes with higher accuracy, no skipping, no card frames,
and it is convenient for the director, script supervisor and sound engineer to record and organize.