"Whatever equipment our students use—whatever facilities we put in place—we always make sure we're meeting one expectation: that students will get the best possible experience they can get for the jobs they want when they graduate." That's according to Christopher Leese, Technical Specialist for the Media & Communications department at Staffordshire University.
It's not an uncommon mission statement for anyone in higher education. But what's not so common is that the jobs Mr. Leese is referring to are in an industry that didn't even exist just a few years ago. So when it came time for the University to build a new facility to prepare students for their future careers, he and his colleagues had to put aside equipment that had worked for decades in the past.
Instead, they focused all their attention on future-looking technology—technology that didn't even exist, just a few years ago.
Ahead of the Game
Take one look at the course curriculum for the newest addition to Staffordshire University's business school, and you'll see it's not like any other management programme in academia.
Year One compulsory modules:
Competitive Gaming Culture
Resourcing Esports Events
Esports Ecosystems
Single Player Esports Event
Esports Events Experience
Esports Broadcasting
That's because the University's brand-new course—started only in September of 2018—is anything but typical. In fact, it's the first of its kind in the United Kingdom, focusing strictly on the business of an emerging industry that in 2019 expects to see record revenues, thanks in large part to the influx of companies and investors getting into the market.
With a growing sector and high-profile brands rushing into a new space, Staffordshire University looked into the future of its graduates, and saw an opportunity for them to be on the leading edge of a USD $1.1bn (£844 million) industry.
And the Bachelor of Arts in Esports (Honours) was born.
Acquired Skills
Staffordshire University, located in Stoke-on-Trent, England, is no noob when it comes to teaching technology. For one thing, the campus's roots date back more than a hundred years, to the site of a school of science and technology that opened in 1914
Other experience points: the University's computer science programmes include certifications in Cyber Security, studies in Artificial Intelligence and Robotics, and partnerships with Cisco, Amazon, and Microsoft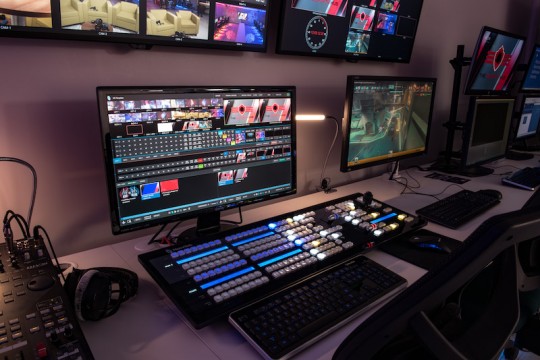 What's more, it offers no fewer than four bachelors' degree programmes in video games. It has previously been ranked best business school in the world for its use of Twitter. And it pioneered the world's first Games PR and Community Management degree. It was just a natural levelling-up for Staffordshire University to become the first in the UK to offer a degree programme dedicated to the business of esports management.
Attract Mode
In 2017, at the time of the course's conception, the Business School's Associate Dean for Recruitment, Rachel Gowers, observed that industry was driving the creation of new jobs, saying that "companies are looking for people who are both entrepreneurial and tech savvy."
That's because jobs in esports aren't limited to the players sitting in front of the game consoles. For companies to make money in esports, just like any other sport, it takes more than just athletes—it takes a whole ecosystem of specialisations.
These jobs can be anything from highly visible roles like on-camera shout casters and hosts, coaches and analysts, to behind-the scenes pros including event managers, partnership and sponsorship reps, production crews, team or organisation managers, finance specialists, and PR execs.