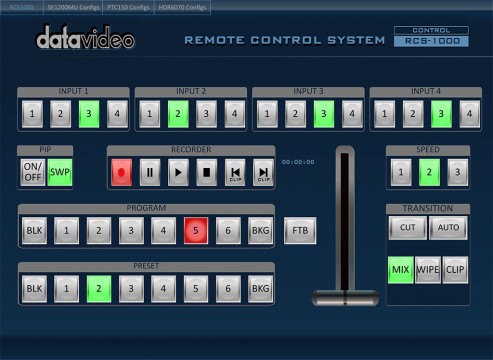 Datavideo announced the RCS-1000 app that can simultaneously control multiple products. The RCS-1000 is a free app for App Store (iOS) or Google Play Store (Android) tablets that can control various Datavideo products such as SE-1200MU, 6 input HD video switcher, up to eight PTC-150 / PTC-150T HD PTZ cameras, and HDR-60 / HDR-70 HD recorder.
Not only can you switch from one input to the next, the RCS-1000 gives you full control of the SE-1200MU switcher. You can configure the key settings, wipe transitions, DSK settings, grab and save still images, and set user memories. In addition to the switcher controls, the RCS-1000 allows you to control the pan, tilt, and zoom of each camera as well as set four presets per camera. You can also control focus, iris, and white balance of each camera from the app. Simple recorder controls allow you to easily select record, pause, or stop to trigger the HDR-60/HDR-70 recorder.
Simply connect the tablet with the RCS-1000 app, along with the Datavideo products onto the same network, and you are ready to begin your production. The RCS-1000 makes it easy for one person to control multiple products within a workflow from one tablet.
"Imagine doing a production for a conference or a corporate presentation, and only having to hold one tablet in your hands to switch, control, and record the entire production. The RCS-1000 simplifies the workflow, so that you won't have to hire multiple crew members to control the cameras and switch the show," says Craig Moffat, Managing Director of Datavideo.
The RCS-1000 is a great solution for various applications including corporate presentations, seminars, and conferences. Besides, it's available now for a free download from the App Store (iOS) or Google Play Store (Android).
http://www.datavideo.com/article/Datavideo+announces+RCS-1000%2C+an+app+that+can+simultaneously+control+multiple+products